Toyota Camry Buy Lease Offers in Birmingham, AL
The Toyota Camry Offers More Excitement Around Every Corner
The all-new Toyota Camry was designed to turn heads and engineered to change minds. The new Camry has an agile and dynamic exterior. The Toyota Camry's interior has been designed to provide an environment where the driver can relax and completely focus on the road ahead. Everything inside the Camry was specifically chosen and molded to heighten the overall driving experience for the driver and passengers. With its improved handling, it offers a responsive drive that allows you to enjoy both twisty roads and tricky urban conditions. Though exciting to drive, the Camry is always committed to safety. Inside you'll find confidence-inspiring safety features to keep you protected at all times.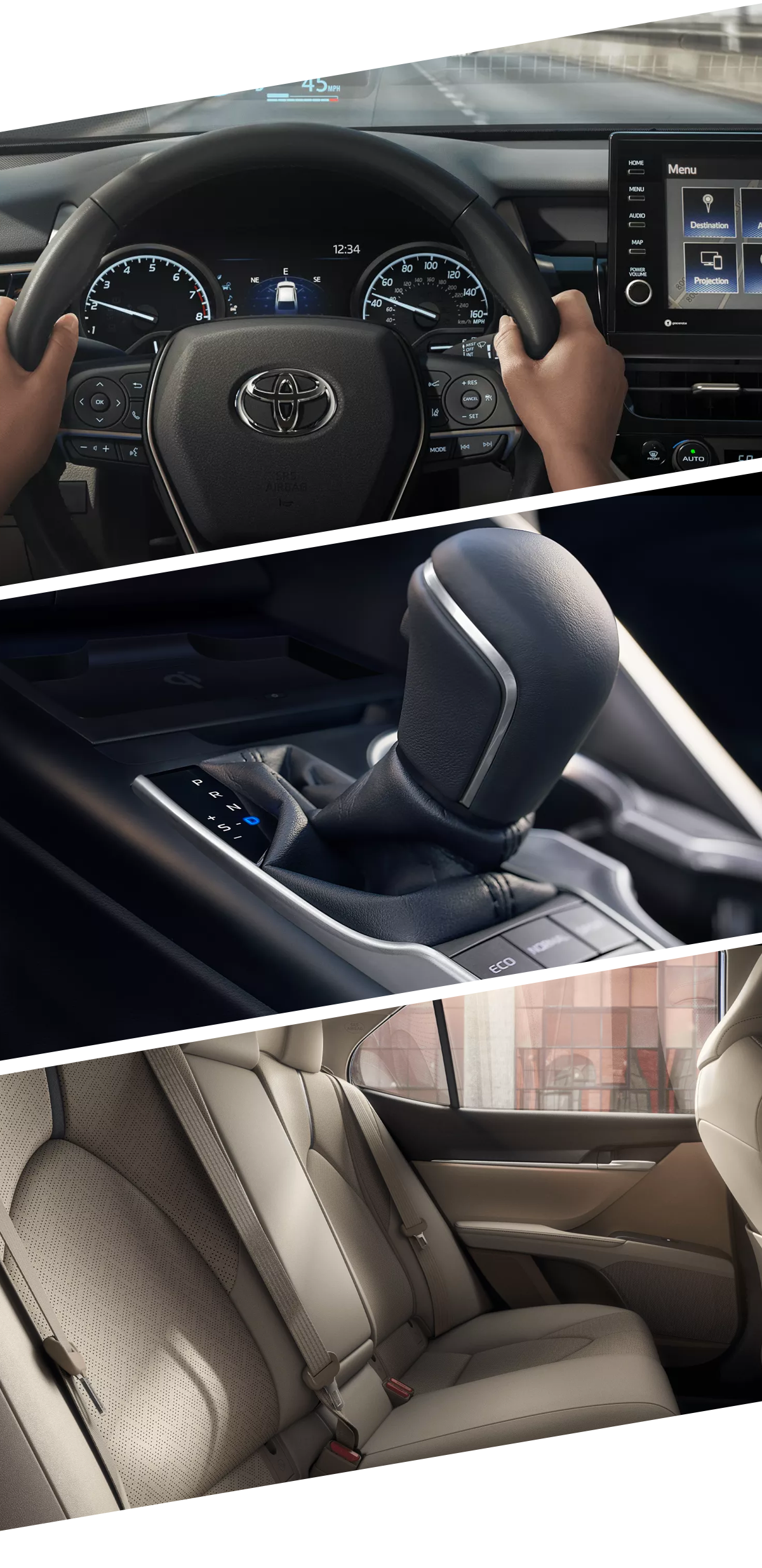 What's New on the 2022 Toyota Camry?
While there are no significant changes for the 2022 year model, the Toyota Camry remains a legend among midsize sedans. Giving drivers an excellently high fuel economy via the formidable four-cylinder engine. However, if you are seeking a little more oomph from your ride, then the 2022 Camry also offers the option V6 engine. While you are inside the 2022 Camry, you are sure to enjoy plenty of space, whether you are in the driver's seat, the passenger, or the back row. Toyota also understands the importance that safety on the road plays for you and your loved ones, which is why the manufacturer has taken steps to ensure your safety with a plethora of safety features that include lane-keeping assist, road sign recognition, forward collision mitigation, adaptive cruise control, and much more.
A Look into the Camry's Past
Formerly designed to be a compact size vehicle, the Toyota Camry has undergone countless adjustments throughout its 24 years of existence. Having a respected past for dependability more so than looks, in 2007 Toyota debuted a completely redesigned model that was bolder than ever before. A perfect mix between chic and daring, the new and improved Toyota Camry next become available with a 3.5 liter V6 for those looking for a bit more power under the hood. Another milestone of the Camry's history is that it is now offered as a hybrid, making driving experiences better for the driver and greener for the environment. Due to all these ground-breaking modifications and more, it has led the Camry to become an award-winning mid-size sedan of its class.
Why Choose Limbaugh Toyota?
Our Toyota dealership, in Birmingham, AL, has built long relationships with clients all over Central Alabama for the past 27 years and still continues to do so. Whether you're looking to buy a new or used Toyota Camry in Birmingham, need service on the one you already drive, or want to discuss financing options, our friendly staff will be more than happy to guide you through the process. If you want first-class customer service and a stress-free atmosphere, choose Limbaugh Toyota for all your automotive needs.