Dream Car Contest Returns for Toyota: Going on Now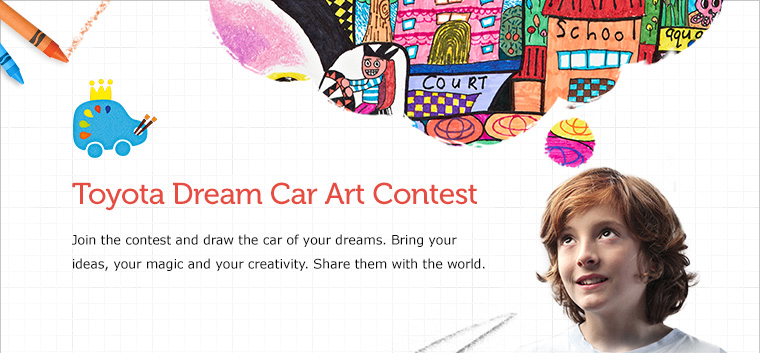 Toyota is inviting all American youth from the ages of four to 15 to draw their "Dream Car" for the worldwide Toyota Dream Car Art Contest. The contest runs from October 1 to December 14, 2013. Nine U.S. winners will be chosen in the spring of 2014 to receive an iPad Mini. Once the winners have been chosen they will then be entered with entries from over 70 other countries for consideration in the World Contest. The winners will then be selected to go to Japan on an all-expense paid trip.  Toyota is promoting the art contest in hopes of fostering creativity and interest in the automotive industry among the youth in the world.
"We always look for ways to inspire innovation and to enrich the lives of youth," said Mike Groff, incoming President & CEO of Toyota Financial Services. "Art is an integral part of many of our youth-oriented service programs. Often, when volunteering or mentoring, our associates engage with the kids through art projects as a way to help establish a rapport and build friendships."
For more details on how to enter the Toyota Dream Car Art Contest visit www.toyota.com.